Today (a day late, sorry!) I'm linking up with
Bloom
and
Southern Simplicity
on our 2nd Teacher Talk link up.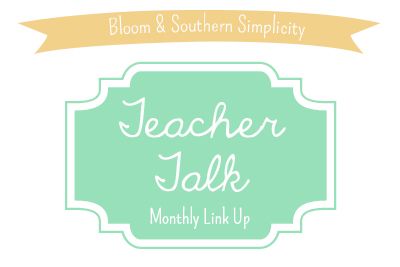 Today's topic might be one of my favorite things ever....CLOTHES! I don't even know when my love for fashion started, but I can remember in high school being very picky about outfits and trying new things. My poor husband....
I used to work in a law firm and financial institutions before becoming a teacher (learn about that
here
if you haven't read it yet), so I've always been very used to dressing up for work. At my school, we are required to wear work casual everyday except for Fridays when we can wear jeans.
Dressing up is fun for me. I've always enjoyed it. It just makes me feel better to pull myself together in the morning and be fresh for the day. I've made it my mission since becoming a teacher to always look nice for the kids. The heels had to go, but I've transitioned nicely to flats if I do say so myself. ;)
Say what you will, but they way a person dresses speaks. I try to be mindful of that for school. It's a psychology, if you will. I fully believe that what I wear makes a difference- to me and to those kids. If I've had an "off" day and maybe my hair isn't in place like usual, they will comment right away. Kids notice just like adults do and a lot of times, they're more vocal...ha!
Here are my rules for my teaching outfits: have at least one statement piece, wear bright colors,
try
to wear comfortable shoes (but they all become uncomfortable after being on your feet for 10 hours!), dress in clothing that's comfortable, always dress modestly, have interchangable/versatile pieces, and spend just a little time on deciding what to wear.
My hubs was a great sport as we played "teacher fashion show"- taking pictures of me in some of my clothes I wear to work. He was CRACKING me up. As you'll be able to tell, I LOVE bright colors. They make me happy.
Dress-The Loft; Shoes-Dillards (on clearance last Winter); Jewelery-Dillards (on clearance last Winter)
Top & Pants-The Loft; Necklace-Etsy; Shoes-Target; Earrings-Wal-Mart
Piko Top-Shop The Rage; Pants-either The Loft or New York & Co (can't remember! I have a pair from both places); Necklace-Steinmart; Shoes-Target
Piko Top-Shop the Rage; Pants-Steinmart; Shoes-Target; Jewelery-Roccoco
Top-The Loft; Pencil Skirt-New York & Co; Shoes-Target; Jewelry-The Limited
Top-Traget; Maxi-Dillards; Earrings were from my mom; Bracelet-Francesca's
Top & Pants-The Loft; Shoes-Target
I didn't realize how much of my wardrobe came from The Loft until I took these pictures. I'm lucky enough to live close to two different outfits and a regular store, so I get some really good deals. I used to shop at The Limited for almost everything, but the quality just wasn't there. I also buy a lot from Target, various boutiques, Dillards (when they have a sale), and I hit up Steinmart/TJ Maxx/Ross every once in awhile. I don't discriminate. ;)
Thanks for taking the time to read my silly outfit post! :) I hope you have a great finish to your week!