I realize I haven't just been bad about blogging lately - I've been downright awful. I have not posted once in December. Somehow I figured that this December would be much more calm and slower than normal but I haven't had much downtime so I'm going to make one long post about some very memorable moments of my life this December.
We were only in school for 2 weeks of this month and it FLEW by. I participated in a Secret Santa with some of the teachers and had a ball. My Secret Santa was so spot on with me. I absolutely loved by gifts. They were so heartfelt. One that meant so much to me was a book titled "Having a Mary Heart in a Martha World". I opened it up and started reading some of it. I plan to finish it this week...WOW did I need that book or what...I'll blog more after I get done reading it, but it deals with things I really struggle with in life.
I had some really fun activities for my kids gearing up for the holidays. We finished up our chapter in science on rocks and minerals. To spice it up, I had my dad (who is a geologist) come in as a guest speaker. He brought about 20 mineral samples and ended up making each kid a bag full of 5 minerals each. He's the best father and has such a giving heart. I know he's my dad, but I've never known anyone more giving than him. The kids LOVED it! They were so excited and it was a great way to make it a memorable lesson. They had to take their bag of minerals up to my table and identify which ones they had. I wish I had a picture of how it was all laid out, but as always, I am terrible about remembering to take pictures.
The week before Christmas, we made snowmen out of water bottles and then made cinnamon applesauce ornaments. The snowmen were adorable. My kids' creativity was cracking me up! I bought pipe cleaners, felt, poms, googly eyes, and Styrofoam balls to help make the heads, arms, and clothing. We stuffed empty water bottles with white tissue paper and then glued everything else on. I had them write a story about "The Day it Snowed" to tie it into Language Arts. Such a fun activity! Now the cinnamon ornaments were a hit too - but time consuming! It took them about 3 days to dry before I could have the kids decorate them. Luckily they were all done in time to go home for Christmas. The last day of school, we had a Christmas party in class. My kids all got a little something from me (with the help of my folks) and I made them hot chocolate in the crockpot while we watched The Polar Express. It was also pajama day at school. We had a great time! These are special memories that I will always cherish with my first class. I love those kids.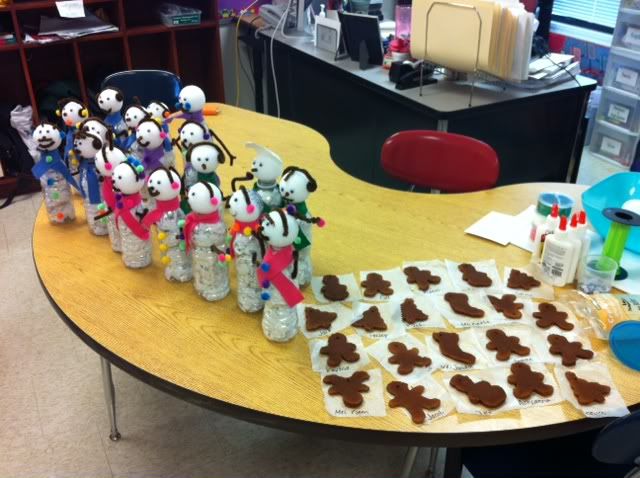 Aside from work, we attended a few Christmas parties and ornament exchanges. Our Sunday School Christmas party was a lot of fun this year. The theme was "What Child is This" and our teachers compiled a booklet full of all of us in the class as children then we had a dirty Santa ornament exchange. J and I ended up with great ornaments. I thought mine was so stinkin cute. It's a Mary, Joseph and baby Jesus s'more set. J got a talking Beaker from the Muppets.
If you've read my blog for any length of time or know me, you know I love to cook and bake. Unfortunately, I did not have nearly enough time for that this year like I had hoped, but I did try making cake balls for the first time. They were really easy and very good - got lots of compliments on them. This is them before I packaged them all up for delivery. The white coated ones are strawberry and the others were chocolate.
I also made these Christmas cookies for a cookie swap at school. I had pinned them sometime ago and figured I'd try them since they looked so Christmas-y. I thought they were good, but they were different. They get their red color from cherries that you puree, so if you're not a fan of cherries, you won't like these.
We were blessed enough to be able to afford a dining room table right before Christmas. We had been searching for awhile and finally decided on a set we kept coming back to. I loved having it in the house for us to enjoy during the holidays. We hosted our first Christmas dinner over here and all got to sit around it. At night, it was perfect for our intense evening of board games. ;)
I did not take one picture of Christmas festivities. Shame on me. I was too busy doing this or that. It makes me sad now, but what can I do. This reminds me again of how much I need to read "Having a Mary Heart in a Martha World". Jared managed to snap a few pictures of us girls cooking. I made my grandma's dressing recipe for the first time and I was so excited by how well it turned out. There's no "recipe", just a little of this and a little of that. My mom told me what all was in it as best she could and I totally winged it. I was so thankful that it turned out better than I could have imagined and everyone enjoyed it. Making that dressing is one of the reasons I love cooking so much - it was my dad's mom's whom I never met; she died way before I was born. But I feel like her memory can live on through me by recreating her recipes. I don't know if that makes sense to anyone else but it always makes me feel good to cook family recipes and bring joy to my family like I know my grandma used to do through her cooking. We had a big feast - ham, dressing, sweet potato souffle', mashed potatoes (thank you, Jules!), green beans and corn (thank you, MIL!), bread, chocolate cake, and pecan pies (thank you, Angie!).
Rosie enjoyed her first Christmas with us as well. We got her last January so she's never spent Christmas with us. She was feeling very festive. And I was so very happy that she did not feel the need to tear up any decorations or pay any attention to the tree! Yipee!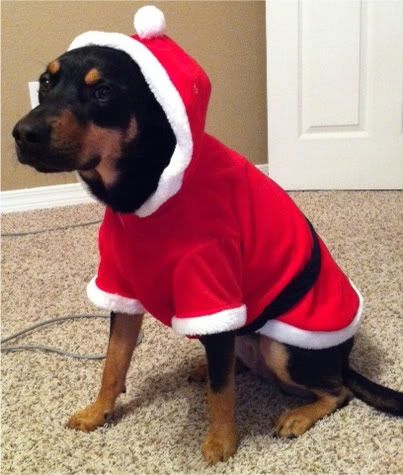 The best part about this December has been the time I've spent with my loved ones. My husband is the most wonderful man and I am so thankful to spend my days and nights with him. He is truly amazing and such a God send in my crazy life. It was so nice to see all of my family this year and spend time with old friends I hadn't seen in awhile. I love being able to hug my mom and dad's necks and loved having J's family here for the holidays. I loved celebrating my Lord's birthday and tried to keep that as my focus as I prepared for Christmas festivities. I could definitely have done a better job than I did and I think that will be my goal from here on out - make Christmas all about Christ instead of decorations, holiday shopping, etc. My heart felt so happy when I put on Christmas songs and Christian music and just sang out loud as I worked to prepare the food.
I'm sure I've left
something
out, but this is enough brain dump for one sitting. I'm off to warm up some leftovers and snuggle up with my hub-sand. We're enjoying a nice quiet evening in our sweats - it doesn't get much better than that! ;)
I hope y'all had a wonderful Christmas filled with love. XOXO