Finally a post about grits! ;) Growing up in the South, I was born and bred on some good ole grits. All types too - Nassau, cheese, butter, grits a ya-ya, you name it. I went almost every morning for about 15 years eating cheese grits for breakfast. They weren't difficult - typically instant grits with American cheese melted in. But they were always so good.
I've been at home sick today with a sinus infection and "flu like symptoms" (whatever that means - do I have the flu or not?) and I finally gained my appetite back around 12:30 today. So what did I do? Decided to make myself cheese grits. I don't eat them much anymore because the hub-sand grew up on oats, not grits, so he's not a
huge
fan and they're definitely not the healthiest choice either. But I am sick and I don't care.
Instead of doing instant grits, I did them the old fashioned way today and cooked them on the stove. They were very good so I figured I'd share the recipe in case anyone else would like to try. I adapted it from the Quacker Grits canister.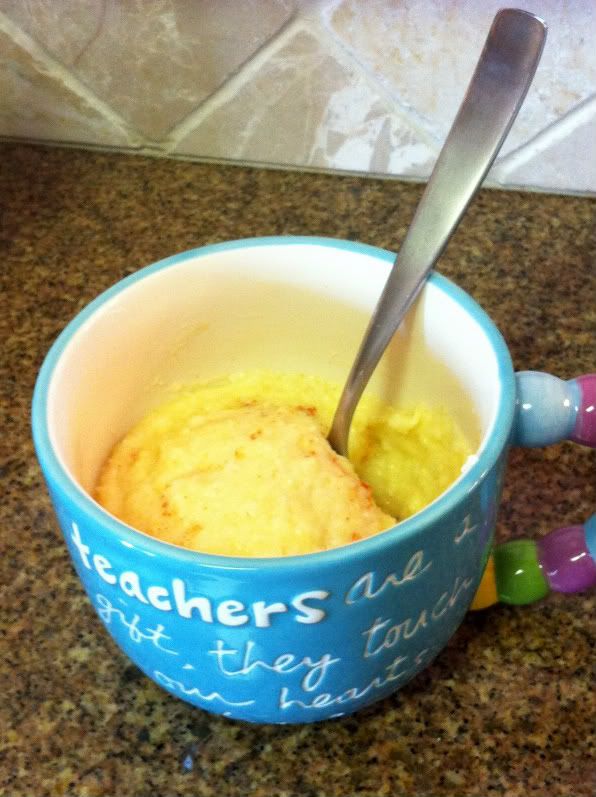 Ingredients:
-1 1/4 cup of water
-1/3 cup of uncooked grits
-dallop of butter
-2 slices of cheese (or try other types like Gouda)
-dash of garlic powder
-tsp of paprika
-sea salt to taste
Directions:
1. Bring water to boil. Add grits.
2. Reduce heat to med-low and stir for 2 minutes. Cover and let simmer 12-14 mins.
3. Once done simmering, add butter and cheese. Stir until melted.
4. Add seasonings to taste.
The paprika and garlic powder really made this taste so good and different from the grits I was always used to make. Definitely a good comfort food for a cold day like today. And now that I've got my appetite back and can taste again, I'll be making Lily's Chicken for dinner tonight - roasted chicken topped with goat cheese, wilted spinach, artichokes and lemon basil sauce...delish. Seriously my favorite chicken dish. I got the inspiration from Bonefish Grille's Lily's Chicken and created my own version at home. Recipe will be coming soon. God bless!